Our licensed physical therapists can perform a running analysis through state of the art slow motion video software. The purpose of a running analysis is to help you understand and improve your form/technique for more efficient and safe running.
Slowing video down to analyze your running frame by frame allows us to determine dysfunctions that are more difficult to find in real time. The information we gather combined with our expertise in movement analysis and sports performance allows us to help reduce your risk of injuries and provide you the tools to improve your performance.
BENEFITS
Learn about your current running form and habits
Learn tips for improved running form
Gain expertise from an experienced physical therapist and running specialist
Discuss your past and current status and goals with your physical therapist
Obtain targeted exercises for increased flexibility, strength and endurance based on our findings
Obtain screen shots highlighting areas of asymmetry or concern
Discuss next action steps recommended for helping you achieve your goals
GET STARTED NOW
Capture yourself running: Follow the step by step video and printed instructions below for how to record your running. Please do not forget to perform the additional exercises on video so we have the information we need to best serve you.
Video Formats Accepted: 
Upload your video: When you have collected the required footage (.mov or .mp4 format only), you can upload your video through Dropbox. Just setup an account with them and email it to

[email protected]

. Please indicate in your email what type of device was used to capture your video (Ie, Android or Apple). Once we have access to your video, we will perform a brief review to ensure that we have what we need.  One of our Care Coordinator's will then contact you to schedule an appointment at our facility to discuss our findings.  Your therapist will then take the necessary time to fully assess the footage and prepare for your onsite visit.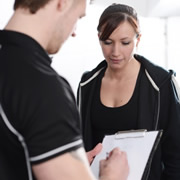 Discuss your running: At your private appointment (40 minutes one on one with a licensed physical therapist), we will obtain more information from you, discuss our findings then provide recommendations and exercises as appropriate.
EQUIPMENT
Running or training shoes
Shorts and t-shirt. Preferably:

men shirtless
women in sports bras

Treadmill
Video recorder:

Camcorder
iPhone
Other smartphone
KEY ANGLES
Run at your normal training pace
Record 20-30 seconds for each view
Posterior view (whole body):
Depending on your height, you will need to be about 4 feet behind the treadmill and place the camera at hip height. A chair, stool or tripod are good options. Be sure to capture the entire runner's body, from feet to above the head.
Posterior view (lower body):
Place your camera 12-18 inches away from the treadmill and on a 4-8 inch platform. A yoga block, shoe box or tripod work great. This close up of your lower body should include half your thigh down to the bottom of the treadmill.
Side View
Include the whole treadmill and the runner. Again, placing the camera at hip height about 4 feet away often works best.
Anterior view (lower body)
This is similar to the lower body posterior view. Be sure to capture the runner from mid-thigh to feet.
Two Exercises
Single limb balance: Stand on one leg with your hands on your waist. Your goal is to balance for 20-30 seconds with as little movement as possible.
Single limb step down: Step down to the side from a 4 to 6 inch step. A stack of books or stool are good alternatives. Place your hands on your waist. Perform 10 repetitions.
THINGS TO AVOID:
Clutter
Low lighting
Quality of video determines the quality of analysis we can provide
Other Relevant Articles: